Club Radiotelegrafisti Italiani
Per richiedere il nuovo attestato di brevetto di telegrafista, basta inviare una email. E' del tutto gratuito, sarà inviato in formato pdf, con la nuova numerazione. Ho provveduto alla cancellazione di tutti i vecchi iscritti da Vito Vetrano IN3VST, in quanto non sono in possesso della relativa documentazione, nonostante abbia fatto richiesta alla famiglia a Merano. Il Club è aperto a tutti i telegrafisti del mondo. I vecchi membri che vorranno avere il nuovo attestato del Club e figurare nella lista qui sotto, sarà sufficiente fornirmi il nominativo e una richiesta via email, ho la lista di tutti i vecchi nominativi attivati da Vito che rimangono a tutti gli effetti membri del Club. .
To request the new certificate, "di brevetto di telegrafista" just send an email. It is completely free, it will be sent in pdf format, with the new numbering. I canceled all the old members of Vito Vetrano IN3VST, as I do not have the documentation, despite having made a request to the family in Merano. The Club is open to all telegraphers in the world. The old member who want to appear on the Club list and have the new certificate just give me the callsign and a request by email. I have the list of the old callsign member who remain in all respect members of the Club.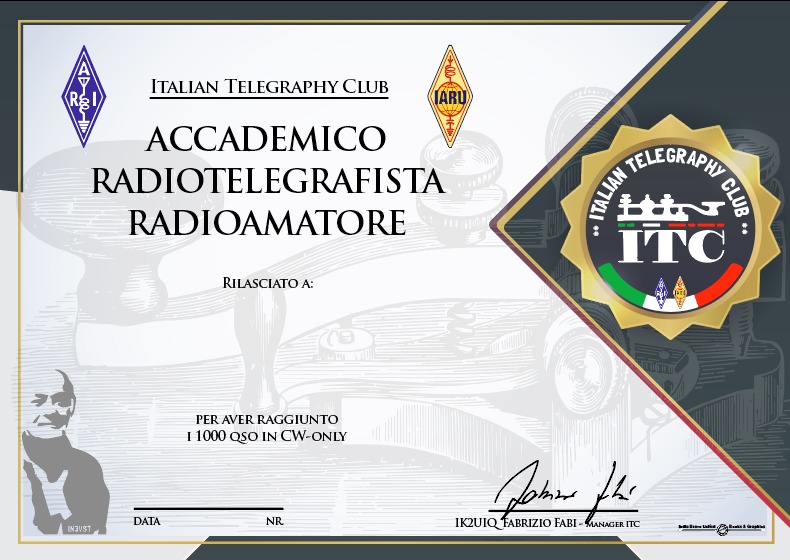 - Area i0. ( A.R.I. )
IK0PHU 014/2019 già 101# - IS0HNN 009/2020 - IZ0AYM 015/2020 già 784# - ISOJXO 004/2021 - IK0QDM 018/2021 già 200# - IK0DWJ 034/2021 già 565#
IZ0RQF 047/2021 - ISOYEV 050/2021 - IS0WHQ 051/2021 - IU0JGN 052/2021 - I0KJX 007/2022 - IS0HNW 018/2022 - I0ZUG 036/2022 - IZ0ONL 008/2023
ISOESG 018/2023 già 958# -
- Area i1. ( A.R.I. )
IK1JJM 005/2019 - IK1YRA 002/2020 - IU1HCC 008/2020 - IK1WNO 001/2021 già 1009# - IK1XPB 019/2021 - IW1CHJ 021/2021 - IK1VQO 031/2021 -
IK1ZUV 054/2021 - I1EIS 001/2022 - IK1ZOV 004/2022 - IK1VBE 017/2022 già 426# - I1ULJ 019/2022 già 844# - IK1YDB 021/2022 già 472# -
IZ1POZ 022/2022 - IK1AMC 024/2022 - IZ1BWB 027/2022 già 733# - IU1OPQ 030/2022 - IZ1ELP 032/2022 - IU1LPW 035/2022 - IK1MSO 042/2022 -
IK1SOW 047/2022 già 247# - I1WXY 003/2023 - IK1VEK 014/2023 già 605# - IZ1ELQ 015/2023 - IK1BPL 020/2023 ex ?? -
- Area i2. (A.R.I. )
IK2EKZ 001/2019 - IK2RGV 002/2019 - I2XGD 004/2019 - IU2HYI 006/2019 - IW2JJS 007/2019 - I2QIL 010/2019 - IZ2UZQ 011/2019
IZ2FLX 012/2019 (sk 20/04/21) - I2XBO 013/2019 - IZ2ESV 003/2020 - IK2ECW 011/2020 già 121# - IK2SNG 014/2020 già 274#
IK2SAE 003/2021 già 294# - IZ2EWR 007/2021 - IW2EAB 010/2021 - IK2JET 015/2021 già 319# - I2WDB 022/2021 - I2CZQ 024/2021
IZ2ABP 035/2021 già 604# - I2AZ 41/2021 già ?# - IK2TLA 002/2022 - IK2SOE 009/2022 già 408# - I2PZK 020/2022 - IW2MZS 026/72022
IZ2GMZ 029/2021 già 64# onorario - I2ZZU 029/2022 già 318# - IW2HTH 031/2022 - IU2NBZ 038/2022 - IU2KBN 041/2022 - IK2EKO 001/2023
IW2BTA 004/2023 - IK2UWA 005/2023 - IU2FZA 009/2023 - IZ2CHO 011/2023 - IU2OZU 044/2022 - IK2AVH 045/2022 già 922#
IZ2CHO 011/2023 - I2OGV 012/2023 EX ? -
- Area i3. ( A.R.I. )
IU3KGO 005/2020 - IV3IPS 006/2020 - IU3OAQ 019/2020 già 198# - IN3EMI 020/2020 - IN3XWB 011/2021 già 884# - IN3EYY 013/2021 già 282# -
IK3ERN 023/2021 - IV3OEP 032/2021 già301# - I3JUK 036/2021 - IW3GUB 037/2021 - IK3UGK 038/2021 - IU3HPY 003/2022 - IU3OVF 010/2022 -
IK3OBX 012/2022 già 320# - IK3OUH 028/2022 - IZ3EIM 034/2022 - IV3FIV 040/2022 già ?? - IK3REX 016/2023 già 250# -
Area i4. ( A.R.I. )
I4CQO 003/2019 - IK4CIE 005/2021 già 142# - IK4PKK 006/2021 - IK4JPR 009/2021 - I4OYU 025/2021 già 929# - IK4MTF 026/2021 già 577# -
IK4UPX già 382# - IZ4VSZ 008/2022 - IK4OMU già 103# -
- Area i5. ( A.R.I. )
I5NQK 008/2019 - I5NOC 001/2020 - IZ5RAQ 004/2020 - IK5WOB 002/2021 già 917# - IW5CSJ 012/2020 - IK5DVT 033/2021 già 700# -
IK5OJB 039/2021 già 801# - IZ5BBS 040/2021 - IK5MEP 046/2021 già 496# - IU5MPW 048/2021 - IK5UBI 005/2022 già 330# - IK5IIS 006/2022
IU5DAH - 023/2022 - IK5CAQ 025/2022 già 689# -
- Area i6. ( A.R.I. )
IK6FAW 014/2021 - IZ6AAW 017/2021 già 570# - IZ6BTN 043/2021 già 791# - I6HWD 053/2021 già 436# - IK6ARS 013/2022 già 220# - IK6IHU 014/2022 -
IK6TKC 028/2021 - IK6IHK 037/2022 - IK6JOT 007/2023 - IK6OCX 019/2023 già 755# -
- Area i7. ( A.R.I. )
IK7UKF 020/2021 - IK7XJA 045/2021 - IK7BEF 011/2022 già 945# - IK7LVE 027/2021 - IZ7ANJ 33/2022 -
- Area i8. ( A.R.I. )
IZ8NXG 009/2019 - IK8TWM 017/2020 già 456# - IK8VRP 018/2020 già 410# - IU8JJT 039/2022 - IK8XIR 002/2023 ex 878# -
- Area iT9. ( A.R.I. )
IT9ASD 007/2020 già 965# - IT9ORA 016/2020/23 - IT9HTV 008/2021 - IT9BRY 012/2021 - IT9ULN 044/2021 già 241# -
- STRANIERI -
Y06EX 010/2020 - HB9DQJ 013/2020 già 976# - YL3JD 021/2020 - KB4QQJ 016/2021 - F5NTJ 042/2021 già 722# - PY1EPU 049/2021 - F6JOE 015/2022 -
F5TO 016/2022 - DK7OG - 013/2023 -

ik2uiq
ITC Manager
HSTWG ARI Representative