Club Radiotelegrafisti Italiani
Per richiedere il nuovo attestato di brevetto di telegrafista, basta inviare una email. E' del tutto gratuito, sarà inviato in formato pdf, con la nuova numerazione.
Ho provveduto alla cancellazione di tutti i vecchi iscritti da Vito Vetrano IN3VST, in quanto non sono in possesso della relativa documentazione,
nonostante abbia fatto richiesta alla famiglia a Merano. Il Club è aperto a tutti i telegrafisti del mondo.
Chi vuol figurare nuovamente nella lista del Club dovrà fare di nuovo richiesta. Il vecchio attestato servirà al posto delle venti QSL.
To request the new certificate, "di brevetto di telegrafista" just send an email. It is completely free, it will be sent in pdf format, with the new numbering.
I canceled all the old members of Vito Vetrano IN3VST, as they do not have the old documentation,
despite having made a request to the family in Merano. The Club is open to all telegraphers in the world.
Those who want to appear on the Club list again must request again. The old certificate will serve instead of the twenty QSL cards.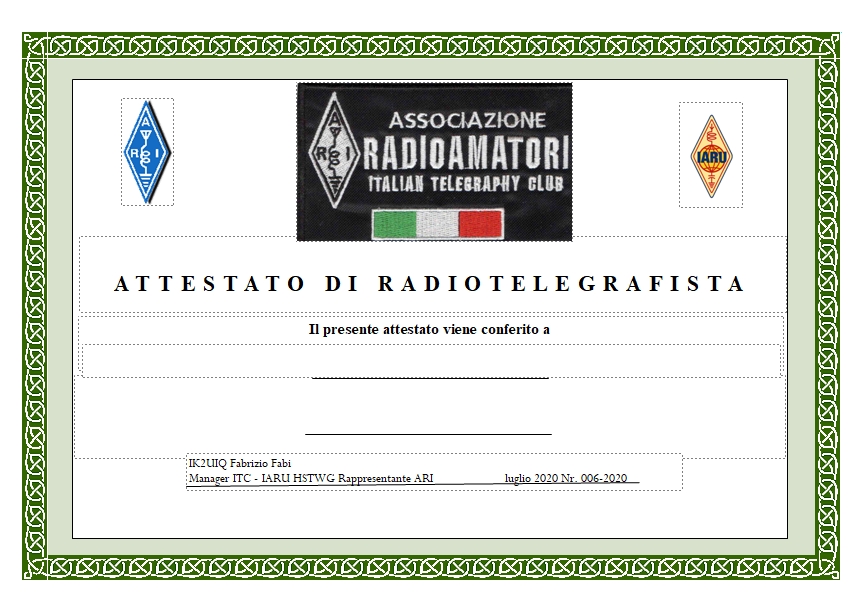 - Area i0. ( A.R.I. )
IK0PHU 014/2019 già 101# - IS0HNN 009/2020 - IZ0AYM 015/2020 già 784# - ISOJXO 004/2021 -
- Area i1. ( A.R.I. )
IK1JJM 005/2019 - IK1YRA 002/2020 - IU1HCC 008/2020 - IK1WNO 001/2021 già 1009#
- Area i2. (A.R.I. )
IK2EKZ 001/2019 - IK2RGV 002/2019 - I2XGD 004/2019 - IU2HYI 006/2019 - IW2JJS 007/2019 - I2QIL 010/2019 - IZ2UZQ 011/2019 - IZ2FLX 012/2019 - I2XBO 013/2019 - IZ2ESV 003/2020 - IK2ECW 11/2020 già 121# - IK2SNG 14/2020 già 274# - IK2SAE 003/2021 già 294# - IZ2EWR 007/2021 - IW2EAB 010/2021 -
- Area i3. ( A.R.I. )
IU3KGO 005/2020 - IV3IPS 006/2020 - IU3OAQ 019/2020 già 198# - IN3EMI 020/2020 - IN3XWB 011/2021 già 884# - IN3EYY 013/2021 già 282#
Area i4. ( A.R.I. )
I4CQO 003/2019 - IK4CIE 005/2021 già 142# - IK4PKK 006/2021 - IK4JPR 009/2021 -
- Area i5. ( A.R.I. )
I5NQK 008/2019 - I5NOC 001/2020 - IZ5RAQ 004/2020 - IK5WOB 002/2021 già 917# - IW5CSJ 012/2020 -
- Area i6. ( A.R.I. )
IK6FAW 014/2021
- Area i7. ( A.R.I. )
- Area i8. ( A.R.I. )
IZ8NXG 009/2019 - IK8TWM 017/2020 già 456# - IK8VRP 018/2020 già 410# -
- Area iT9. ( A.R.I. )
IT9ASD 007/2020 già 965# - IT9ORA 016/2020 - IT9HTV 008/2021 - IT9BRY 012/2021 -
- STRANIERI -
Y06EX 010/2020 - HB9DQJ 013/2020 già 976# - YL3JD 021/2020 -

ik2uiq
ITC Manager
HSTWG ARI Representative